Dental Technology at the 404 Dental Office
Bringing you the 404 Dental Experience
Whether you need a standard check-up x-ray to make sure you do not have any cavities, or you are looking for treatments and improvements to your smile, the 404 Dental Office makes sure we have the right technology.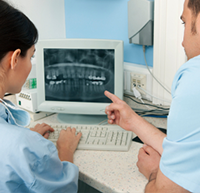 Digital X-Rays
Our dental specialists use x-rays to take a close look at what is happening beneath the surface of your teeth and gums by using the latest digital x-ray technology. We get clearer images while using less radiation! Learn more about our digital x-rays!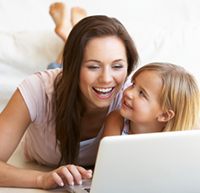 Invisalign® Invisible Braces
Many of our patients have been dreaming of straight teeth for years, but felt they were too old for braces. At the 404 Dental Office, we are proud to offer Invisalign® as an alternative to traditional braces. Using a series of aligners (clear plastic trays customized for your teeth), your teeth will be gently shifted into alignment for a gorgeous and healthy smile. This is technology that is easy for you to remove for eating and cleaning, and many people will be unaware that you are wearing braces at all! Contact us to learn more about how to obtain a healthy and beautiful smile.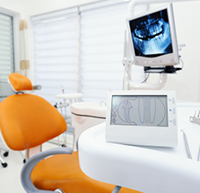 Cadent Itero® for Accurate Dental Impressions
Taking accurate dental impressions in an important part of achieving optimal fit for various dental appliances, including crowns, bridges, and Invisalign® braces. Our Itero 3D impression scanning system uses optical scanning with 100,000 points of red light and more than 300 focal depths to capture the surface and contours of your tooth and gum structure in perfect focus.
In just minutes, Itero lets us create scans of the upper and lower quadrants of your mouth, as well as a virtual bite registration. Once refined and completed, these scans are sent wirelessly to the dental lab to begin fabrication of your unique dental appliance.
If you have any questions or comments, please contact us by clicking the button below!