Your 404 Dental Experiences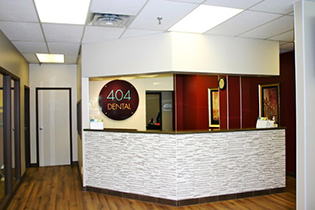 You can expect the 404 Dental Office to put our patients first
Whether you are a new patient or have been with us for years, we pledge to keep your comfort in mind as we provide you with the oral care you need to stay healthy.
Convenient dental care that is on time, all the time
We know that your life is busy, so we make it easy for you to make your oral health a priority. Before your first appointment, you can fill out your forms before you arrive to help things run smoothly when you visit us. You will meet with a patient coordinator who will answer your questions and make sure we have the information we need to treat your oral care concerns.
We never double or triple book appointments to make sure we stay on time so that you do not spend your valuable time waiting to see the dentist. You can also book concurrent appointments for your children so they all have their appointments at the same time, leaving more time for activities and family.
Personalized and gentle dental care for everyone
Whether you are due for a general cleaning or are experiencing tooth pain, we will address your concerns in a relaxed environment and take the time to answer any questions you have. We can provide dentistry while you are asleep to take the edge off your fears, and we employ highly trained staff and cutting edge technology to provide minimally invasive treatments.
Choose the 404 Dental Office for the quality and comfort of our dental care. We offer:
Same Day Appointments
Early Morning & Evening Appointments
Emergency Appointments
Personalized, Gentle Care
Certified Child Specialists
Certified Orthodontist
Certified Oral & Malofaxial Surgeon
Certified Dentist Anesthesist
Digital X-Rays
Free Orthodontic Consultations!
All Insurance Accepted - Direct Billing to insurance companies for your convenience
In-Room Televisions in each dental room
Commitment to Continuing Education and Learning
Start Your 404 Dental Experience! Book an Appointment!