All-On-4 Dental Implants
Healthy full-sets of teeth allow us to eat what we want. They also help us to put our best foot forward in terms of presenting a professional and attractive appearance.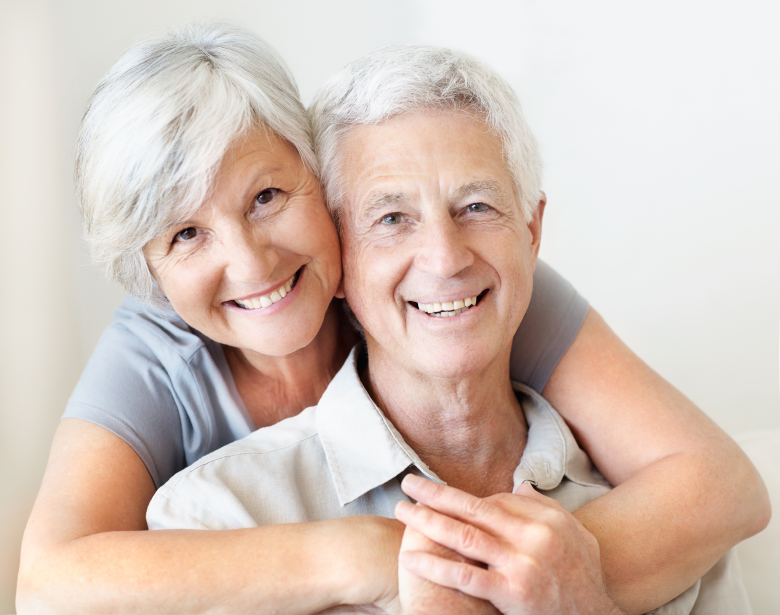 As we age, there's an expectation that we will all lose our nice and healthy-looking teeth, but this doesn't need to be the case. Whether you've lost teeth to gum disease, age, or injury, 404 Dental can provide dental implant services that are convenient, effective, and will improve your quality of life.
What is All-on-4?
Developed by Dr. Paulo Malo of Portugal, in 1993, the All-on-4 dental implant technique has proven both revolutionary, and successful, for over two decades. The term All-on-4 refers to all teeth (either top or bottom row) being supported by only four dental implants.
Who is a candidate for All-on-4 dental implants?
Dental implants are ideal for all those who have lost most or all of their teeth due to gum disease, age, or injury. Those with dentures may also choose to switch to All-on-4 teeth due to the many additional benefits these implants offer.
What's the difference between All-on-4 and dentures?
Unlike traditional dentures, All-on-4 implants are fixed and non-removable. Wearers are able to clean and maintain All-on-4 implants like normal teeth. This includes not having to remove teeth after meals or before bed, and being able to properly chew all foods.
All-on-4 implants also do not rest solely on the gums, and therefore cause less irritation and inflammation than dentures.
How are teeth implanted?
All-on-4 implanting involves the precise placement of four titanium implants, anchored to your jawbone. This structure maintains solid root-like support, providing secure replacements that fit and feel like natural teeth.
Do implanted teeth look real?
Yes! All-on-4 dental implants are expertly designed to be indistinguishable from real teeth. Our team will take a mould of your teeth during your consultation and will fit the prosthetic dental bridge to the natural curve of your jaw.
Why should I get teeth implants?
Unlike lengthy bone grafting procedures, All-on-4 can provide you with beautiful teeth in just one a day. This procedure also causes less pain and swelling than bone grafting!
Fixed in place, All-on-4 eliminates the need for ill-fitting dentures and adhesives, and they look completely natural.
Other All-on-4 benefits include:
Fewer dental visits
Preservation facial structure
Long lasting and durable
Improved ability to speak and eat
Improved confidence and self-esteem
Improved quality of life
What are the consequences of not replacing teeth?
Not replacing damaged or missing teeth can cause numerous health and dental issues for a patient. When teeth are missing, adjacent teeth may begin to push in, attempting to close the gap, drifting out of alignment. Missing and damaged teeth may also cause chewing difficulty, poor appearance, bone loss, loss of lip support, and poor speech.
What is the success rate of All-on-4 dental implants?
The success rate of All-on-4 dental implants is close to 100%! While it is extremely uncommon, it is more likely that one of the four implants will fail, rather than the entire restoration.
The long-term success of dental implants depends on patient compliance, hygiene, grinding of teeth, the health of the patient, injury, smoking, and more. For most clients, implants will last up to 30 years.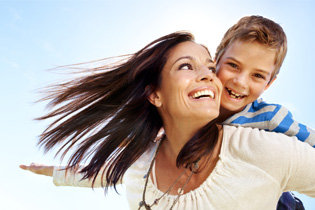 Are All-on-4 replacements painful?
As with many surgeries, some pain should be expected. However, you will receive local anesthetic; as well as pain relieving medications to help you better manage this discomfort.
Since All-on-4 implants only require the implanting of four titanium implants, instead of individual anchors for each tooth, the procedure can drastically reduce treatment, pain, and recovery times (when compared to bone grafting).
How expensive are dental implants?
To receive restorative dental implants, you must first book and attend at least one comprehensive exam. Following these consultations, your oral surgeon will be able to more accurately assess the implant procedure you will require.
Prices combine lab fees and surgery fees, as stated by the Ontario Dental Association fee guide. Patients should plan for fees of $12,000+ for each All-on-four arch.
404 Dental Can Help!
If you're interested in All-on-4 dental implants or traditional dental implants, our incredible staff is prepared to answer any and all of your questions, as well as to ease your concerns.
Learn more about our implant procedures and services or contact us today!